NOW AVAILABLE!
Sapphire
Book 1 of Taylor Lee's NEW Ladies of the Night Collection!
Release Date: April 15th, 2015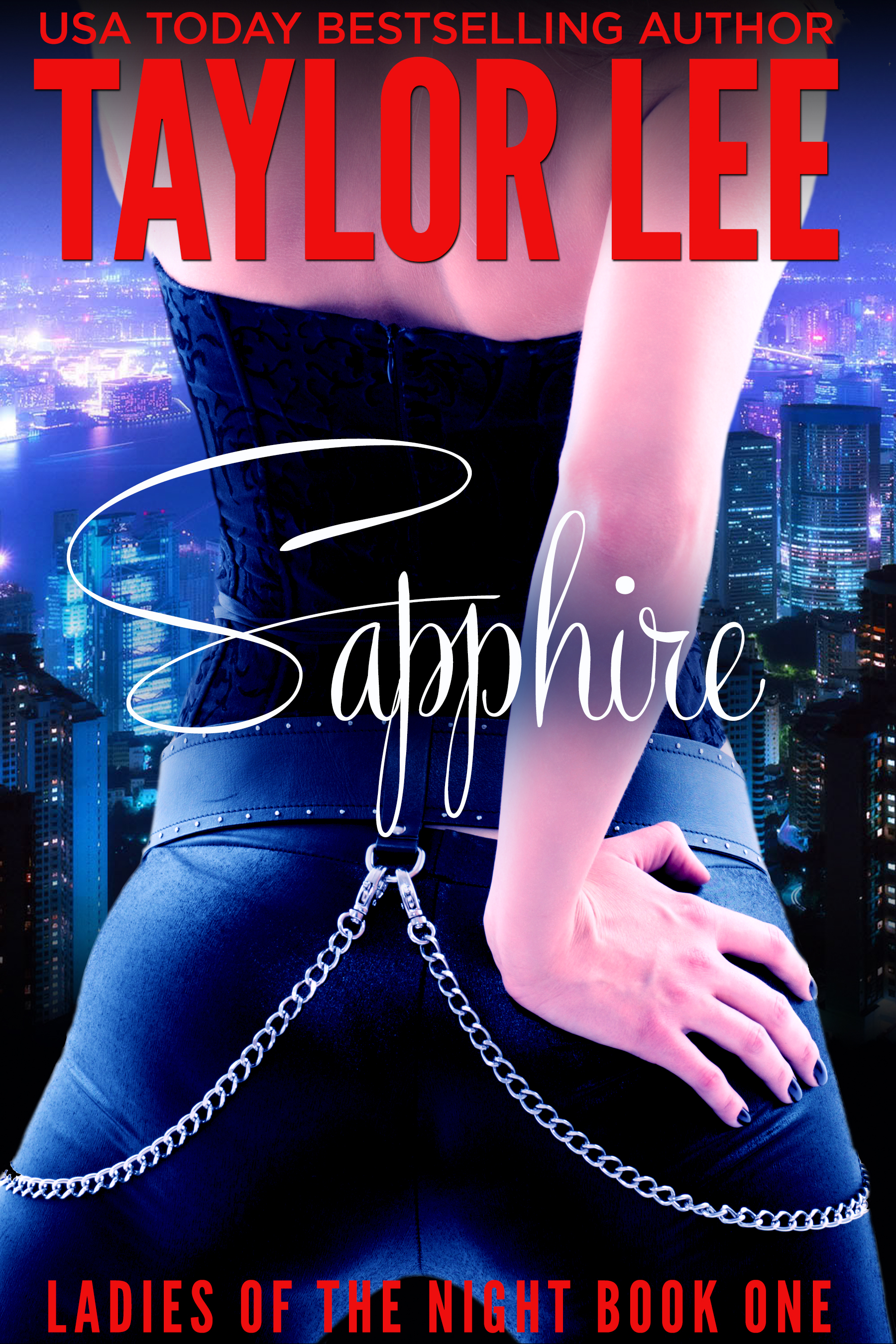 "USA Today best-selling author Taylor Lee does it again! Sapphire is the first book in Lee's provocative new series, Ladies of the Night. The Ladies are covert agents in a secretive, off the grid security organization. Highly trained fighters, they're as gorgeous as they are dangerous to the evil men they're hired to bring to justice. The only thing these formidable women are NOT is "ladies."
Gabriella Shaw, Code Name: Sapphire is hired to seduce and capture the leader of a lucrative international human trafficking enterprise. The epitome of the mastermind's targeted women, Sapphire is the consummate bait. Unfortunately for the evil man, Sapphire is as deadly as she is beautiful. Paired with former Col. Jase Malone, the two agents enter the Caligula Club to trap their prey. The club is the salacious playground for the rich, famous and deviant, and the conduit to the human trafficking horror. The only thing more challenging than the mastermind to the fiercely independent Sapphire is her commanding partner. The sparks fly as Sapphire and Malone fight to capture the criminally insane mastermind while their fierce personal attraction threatens to bring them both—and the mission—crashing down.
Order Now for Just 99 cents!
iBooks | Amazon | Barnes & Noble | Kobo | All Romance | Google Play
JOIN THE PARTY!

Who doesn't like great books, saucy authors, fun games, prizes and giveaways?
COME JOIN US!
Join us on Facebook on Friday April 17th, 2015 from 12.p.m. – 2 p.m. EST to celebrate the release of Taylor Lee's NEW Release, Sapphire!
Join Taylor Lee and her special guest hosts, USA Today Best Selling authors all, for a rollicking two hours of scintillating conversation about great books, plus tons of prizes, giveaways and MORE!
Special Guest Hosts:
Donna Fasano
Nina Bruins
Lorhainne Eckhart
Mimi Barbour
And don't forget to invite your friends! I look forward to seeing everyone there!
NOW AVAILABLE: The Firsts!
Like your Mystery Thrillers on the dark side? Your Romance hot? Your Suspense steamy? Then don't miss…
THE FIRSTS
Danger and Passion – A Volatile Mix:
by Taylor Lee
Get
the FIRST book in each of my
best-selling series at a phenomenal introductory price!!
99 cents for a limited time only!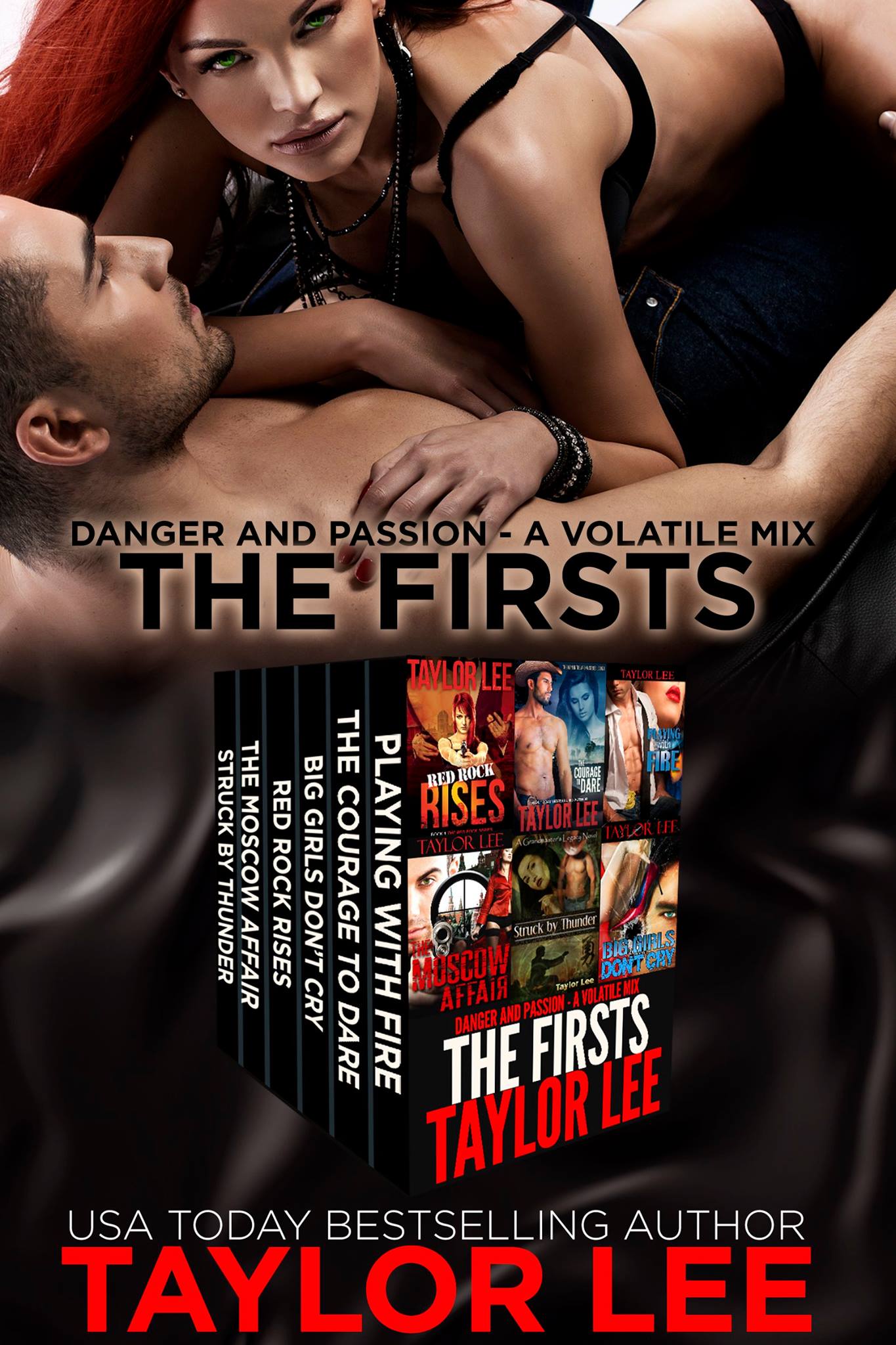 From Taylor Lee, the #1 Bestselling author in Mystery Thrillers, Romantic Suspense and Military Romance comes The FIRSTS— a collection of the First Books in each of Lee's six blockbuster series. Each book is a best-selling phenomenon in its own right. Gathered together, this Collection gives readers a chance to see Taylor Lee spin her volatile mix of Danger and Passion across more than 2500 pages of riveting reads!
The FIRSTS includes six full length award winning novels: Playing with Fire, The Courage to Dare, Big Girls Don't Cry, Red Rock Rises, The Moscow Affair, and Struck by Thunder.
BUY THE BOX SET:
Amazon US | Amazon UK | Amazon CA | Amazon AU | Barnes & Noble | iBooks | Kobo
Praise for The FIRSTS…
"Taylor Lee never disappoints! These books are sizzling hot and keep you guessing at every turn. For discriminating readers who insist on great characters and a spellbinding story that also includes HOT romance!" Sarah Reviews
"These books have everything you expect from Taylor Lee. Memorable characters, high octane action, and Lee's special brand of hot sexy romance. A hugely successful entry from an author who is raising the bar for Mystery Thrillers and Romantic Suspense." Only the Best
"The sexiest, most outrageous hero I've read in a long time. Snappy, laugh out loud dialogue, and a Sizzling HOT romance makes these wildly exciting murder mysteries true page-turners." J. John
"Spellbinding police mystery thrillers that will have you on the edge of your seat. Pulse pounding action and steamy romance. A cast of unforgettable characters that will capture your heart." Action Junkie
Included in the The Firsts:
"Playing With Fire"…Book 1 – The All Fired Up Series: A bad assed cop falls for the beautiful firefighter only to discover that she is his number 1 suspect in a double homicide.
"The Courage to Dare"…Book 1 – The Man in the Arena Series: A shy foreign 'geek at heart' Dr. Avajli Patel is accustomed to controlling her life to the enth degree. The arrogant Sheriff and wounded special ops survivor teaches her a new meaning of control. It's hot!
"Big Girls Don't Cry"…Book 1 – The Blonde Barracuda Collection: They call her the Blonde Barracuda. The press loves her, the politicians fear her and the mob is out to kill her.
"Red Rock Rises"…Book 1 – The Red Rock Series: Major Jesse O'Donnell is as tough as she is beautiful. Fiercely independent, she is the Rock. No one messes with Red Rock until she meets the handsome Police Chief.
"The Moscow Affair"…Book 1 – The Dangerous Affairs Series: A dangerously elegant man, a beautiful feisty young woman, take on the evils of the international sex trade while exploring a passionate world of their own.
"Struck By Thunder…Book 1 – The Grandmaster's Legacy: Think Shades of Gray was hot? It has nothing on the Grandmasters! Historical Erotic Suspense at its best!
STAY UP TO DATE!
Subscribe to Taylor Lee's Newsletter to receive exclusive offers and notifications about her latest books and promotions!
PLAYING WITH FIRE: All Fired Up Series – Book 1
• A rookie firefighter accused of setting the fire that kills her husband and his mistress

• "A bad-assed cop falls for the beautiful firefighter only to discover she is his #1 suspect in a double murder.

• Can Nate find the real murderer before the murderer finds her?
Praise for "Playing with Fire"
"An edgy mystery thriller with pulse pounding action and steamy romance. Unforgettable characters that will capture your heart." Action Junkie

"Cops AND Firefighters? An alpha – male lovers delight. A SEXY kick-ass hero and a beautiful, vulnerable woman in a life and death face-off can't resist their voracious appetite for each other. This is one SIZZLING romantic suspense!" Erotica Rocs

ALSO AVAILABLE ON: AMAZON | BARNES & NOBLE | GOOGLE PLAY | KOBO