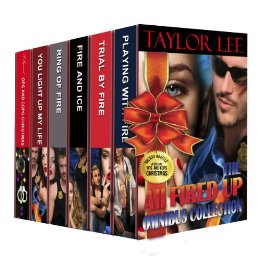 COUNTDOWN DEAL
A Belated Valentine Special Just for You!!
The All Fired Up Collection
 ULTIMATE Sizzling Romantic Suspense Collector's Edition!
The Collection is 800 plus pages of riveting sexy romantic suspense
Normally:  $6.99
Special COUNTDOWN Pricing
Feb. 17: $0.99; Feb. 18: $1.99; Feb.19: $2.99;
Feb. 20: $3.99; Feb. 21 $4.99
Feb. 23: Regular Price: $6.99
Praise for….The All Fired Up Collection
"Taylor Lee never disappoints! These books are sizzling hot and keep you guessing at every turn. Between a feisty firefighter and a badass cop, they crank up the action and the heat. "
"The sexiest, most outrageous hero I've read in a long time. Snappy, laugh out loud dialogue, and a Sizzling HOT romance makes these wildly exciting murder mysteries true page-turners."
 "These are the best books I've read recently. Taylor Lee's stories are so full of action, sex and exquisite love that I hate when they end. I want them to just go on and on. I can't wait for the next installment."  
"Spellbinding police mystery thrillers that will have you on the edge of your seat. Pulse-pounding action and steamy romance. A cast of unforgettable characters that will capture your heart."